"If children can build, play and understand games that work, it's possible that someday they will understand and design systems that work. And the world is full of complicated systems."
 — Sara Corbett, Journalist, New York Times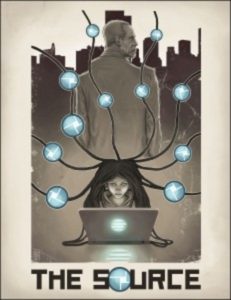 As part of our Social Media in Education course for our Master of Teaching programme at the Ontario Institute of Studies in Education (University of Toronto), I investigated a critical question of my choosing. In general, I am very interested in Game Based Learning – specifically, educational Alternate Reality Games (ARGs). One reason aligns with Corbett's quote above. I first came across this narrative form as a producer for an interactive Daily Planet segment for Discovery Channel here in Canada.
ARGs are interactive, networked narratives (dubbed storyscapes by Blumenthal, 2012). At their core, they behave like complex scavenger hunts. They rely on existing real-world environments as their game space and employ transmedia storytelling, often both online and offline, to deliver content that may be altered by students' ideas or actions. They can be considered "games you play in order to get more out of real life, as opposed to games you play to escape it" (McGonigal, 2011, Chore Wars, para. 30). Such ARGs have the potential to provide learning environments that help foster competencies and extend education to where learners are not only consumers of knowledge, but producers of it as well. This makes ARGs ripe with potential for educational applications.
A step away from the passivity that learners may associate with the traditional classroom, the dynamic nature of Serious ARGs can motivate players by giving them a focused problem to solve. The solution process elicits knowledge and learning rewards, while goal-driven environments morph player game play into a focused, engaged learning experience (Lynch, Mallon, Connolly, 2015, p. 35).
Yet, ARGs are a relatively unfamiliar concept, particularly in the realm of education. Patrick Jagoda, PhD, Associate Professor of English at the University of Chicago, and Game Designer and Project Manager Ashlyn Sparrow do a great job giving a bit more background in the video below. Jagoda is also a researcher behind one of the articles and ARGs I analyzed (The Source).
To help demonstrate what a serious ARG looks like in practice, here is a trailer for the ARG Urgent EVOKE, by game designer and author, Jane McGonigal (cited above).
ARGs can be used as instructional tools in any subject (often with a cross-curricular lean), and as part of media pedagogies; they can be used to teach History, STEM subjects, literacy and any combination beyond and therein. They often challenge students to problem-solve and to employ other 21-century competencies (such as collaboration).
As there appears to be a research gap with educational ARGs in general, and in the way social technologies are best utilized within ARGs specifically, I created an annotated bibliography that reviews articles with a more a general focus on ARGs. Within these articles, I then considered how social technologies are leveraged in each case.
This Annotated Bibliography helped inform and illuminate a response to my critical inquiry:
"How can social technologies successfully be integrated into Alternate Reality Games intended as instructional tools in the classroom?"