Some stories just lend themselves to amusing write-ups. Here are some of my favourites:
Dinosaur curator finds ultimate "skeleton in the closet"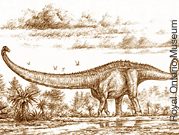 [
11/15/2007] — "Gordo", the largest skeleton ever to be displayed in Canada, has re-emerged from the dust – literally.
Dr. David Evans, Associate Curator of Vertebrate Palaeontology for Royal Ontario Museum, chanced upon the rare find amidst the ROM's own collections.
"This is a fascinating and somewhat humorous story," said the ROM's Director and CEO William Thorsell.
A piece of ancient history
Evans was charged recently with finding a sauropod dino to display in the museum's new Age of Dinosaurs gallery.
"This is the type of dinosaur that comes to mind when people think about dinosaurs. Its huge size and instantly recognizable long neck and long tail…capture people's imagination," says Evans.
After considering numerous options, including digging one up, Evans found what he was looking for in the unlikeliest of places: the museum itself. He was tipped-off to the hidden specimen, he says, by an article written by a famous sauropod expert, Jack McIntosh.
A reference to a rare Barosaurus skeleton at the ROM caught Evans's eye, and sent the curator on a modern-day dino hunt.
"Under our noses"
Evans was able to show that what staff previously thought were isolated bones scattered throughout the collections room actually belonged to a single dinosaur: Gordo.
"It was an exciting day," says Evans. "We were searching for an iconic sauropod skeleton, and we had one under our noses the whole time. When all the parts were pulled together, we realized just how much of the animal the ROM actually had – the better part of a skeleton of a rare, giant, dinosaur."
Movin' on up
Once completed and installed, the dino will be the centerpiece at the gallery; it will be the only sauropod skeleton consisting largely of real fossil bone and the largest ever on permanent display in Canada – quite a promotion for one previously-forgotten dino.
Gordo will appear alongside a T.Rex, Triceratops, and a Stegosaurus.